Charles H. Lyles/Lyles-Simpson Award
---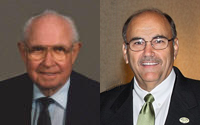 The Charles H. Lyles Award was awarded from 1984 to 2013 by the Gulf States Marine Fisheries Commission (GSMFC) to an individual, agency, or organization which has contributed to the betterment of the fisheries of the Gulf of Mexico through significant biological, industrial, legislative, enforcement, or administrative activities. The Commissioners have, since 1984, selected eminently qualified individuals active in marine fisheries whose careers and contributions to Gulf fisheries are worthy to be labeled "fishery giants." In the membership of this elite club are Congressmen, scientists, administrators, enforcement, businessmen and fishermen from both recreational and commercial industries just to name a few who have made monumental contributions to our work in this field.
The recipient is selected by the full Commission from open nominations at the spring March meeting. The selection is by secret ballot with the highest number of votes being named the recipient and is awarded the honor at the annual meeting in October.
In 2014 the award was renamed the Lyles-Simpson Award in recognition of Larry B. Simpson, Charlie's successor, who served as Executive Director of the Commission from 1983 until his death in 2013.