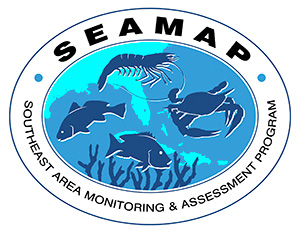 SEAMAP Invertebrate Plankton Archiving Center (SIPAC)
---
The overall mission of the SIPAC, to archive and manage the large collection of plankton samples acquired during SEAMAP cruises and to obtain specimens and/or data on selected invertebrate larval stages from those samples. The SIPAC continues to provide unsorted plankton samples and data or specimens of larval invertebrates to qualified researchers upon request. Currently, there are 5,960 samples catalogued in the SIPAC collections.
In an effort to kept the space required to house the SIPAC collection of unsorted plankton samples to a minimum, samples that have been in the collection for over 7 years and duplicate samples sorted and received from the Polish Sorting and Identification Center, are aliquoted to 1/4 their original volume and placed into 100ml vials. When possible, the remaining 3/4 aliquots are donated to educational institutions for use as teaching materials. To date, approximately 1,450 samples collected from 1982 - 1989 have been aliquoted and prepared for long-term storage.
The SIPAC will continue to manage SEAMAP plankton collections and generate specimens and data on selected invertebrate species. If you are interesting in borrowing any of these samples for your research, please contact Sara LeCroy via e-mail.