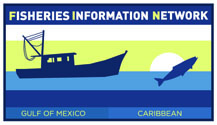 FIN Data Management System
---
Commercial Landings Data for the Gulf States
The FIN "Commercial Landings" database stores landings data as captured by state "Commercial Dealers" which are reported by state "Commercial Fishermen". This data is then collected by the respective state, reviewed, and forwarded to the FIN warehouse for loading. It should be noted that FIN performs quality data checks but in relation, accepts this data "as is" from each state.
Due to federal and state regulations that prohibit public disclosure of data that could lead to the identification of the contributing individual or individuals, access to detailed data is limited to those users with confidential accounts. Public non-confidential data are summarized by Year, State, and Species to abide by the rules of confidentiality.
A confidential account will allow access to tables in the Data Warehouse that display non-confidential data as well as displaying confidential data to which you have been granted access.
For further details on how we protect confidential data
Public Access
Public access of the summary level landings and other GSMFC public data sets are currently available at our GSMFC Public Databases website.
Any questions regarding the summary level state data should be directed to the appropriate state representative as listed below.
| State | Name | Phone Number |
| --- | --- | --- |
| Alabama | Nicole Beckham | (251) 968-7577 |
| Florida | Steve Brown | (727) 896-8626 |
| Mississippi | Darrin Stewart | (228) 374-5000 |
| Louisiana | Mike Harden | (225) 765-2371 |
| Texas | Justin Esslinger | (361) 729-2328 |
Recreational Catch and Harvest Estimates for the Gulf States
The data used in the FIN data warehouse for Recreational Catch, Harvest and Effort estimates is based on the National Marine Fisheries Service, Marine Recreational Information Program (MRIP). As MRIP staff complete estimates of catch they are transferred to the FIN database. For more specific information on the Recreational Fisheries Statistics Program please see the Recreational Fisheries Statistics Program web pages.
Confidential User Access
GSMFC confidential partner access is available and can be attained by emailing a request to lawrence.r.beerkircher@noaa.gov. You must include the applicant's first and last name, organization, email address, purpose for confidential access and time period for access. See NOAA Administrative Order 216-100 for details.